The European Diversity Month 2022 took place in May. This year the focus was 'Building Bridges' with the aim to encourage organisations to build partnerships with NGOs, governmental institutions, other companies, cities or civil society to work together on diversity topics.
BNP Paribas Corporate and Institutional Banking organized a Diversity Run/Diversity Walk in Oslo, Copenhagen, Stockholm and Helsinki to raise awareness of the value of diversity. Our teams enjoyed some nice outdoor time together with our colleagues for a good cause.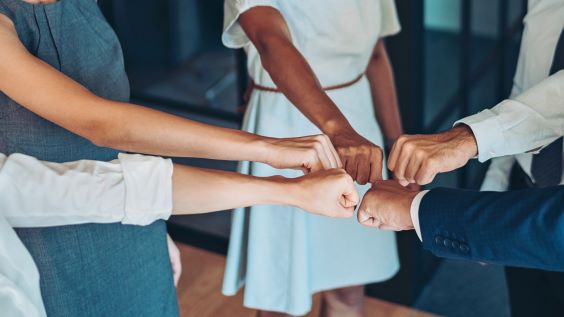 The initiative was organized by two of our employee networks in the Nordic region:
BNP Paribas PRIDE

, which unites our LGBTQI+ employees and allies;

BNP Paribas CulturAll

, which celebrates diverse backgrounds.
Reaching out to connect and share experiences is an important part of social inclusion!
We had the pleasure of welcoming 35 students from Alnaskolen to our office in Oslo. Alnaskolen was set up in 2009 to help local youth gain leadership experience and connection to their community. During an interactive day, our BNP Paribas employees shared an overview of; what banking is and why is it important, the different roles of people working in banking, and career development in banking.
CIaudine Smith, CEO of BNP Paribas Group in Norway comments-
"I saw a lot of engagement from both BNP Paribas employees and the students especially at lunch time and during the speed dating sessions. I had myself some very good discussions with a couple of participants and I am grateful for having had this opportunity to exchange but also reflect. If we have inspired even a few of them, broadened their knowledge, given the bank (and not only BNP Paribas) a positive connotation in their mind which they may want to share around them, then we have very well invested our energy and "Hours2help". I am convinced we all have!
Thank you @Alnaskolan for a lovely day filled with interesting discussions. A special thank you to our Corporate and Institutional Banking CSR committee in for proposing the idea to collaborate with Alnaskolen, and to our local team for a wonderful organization.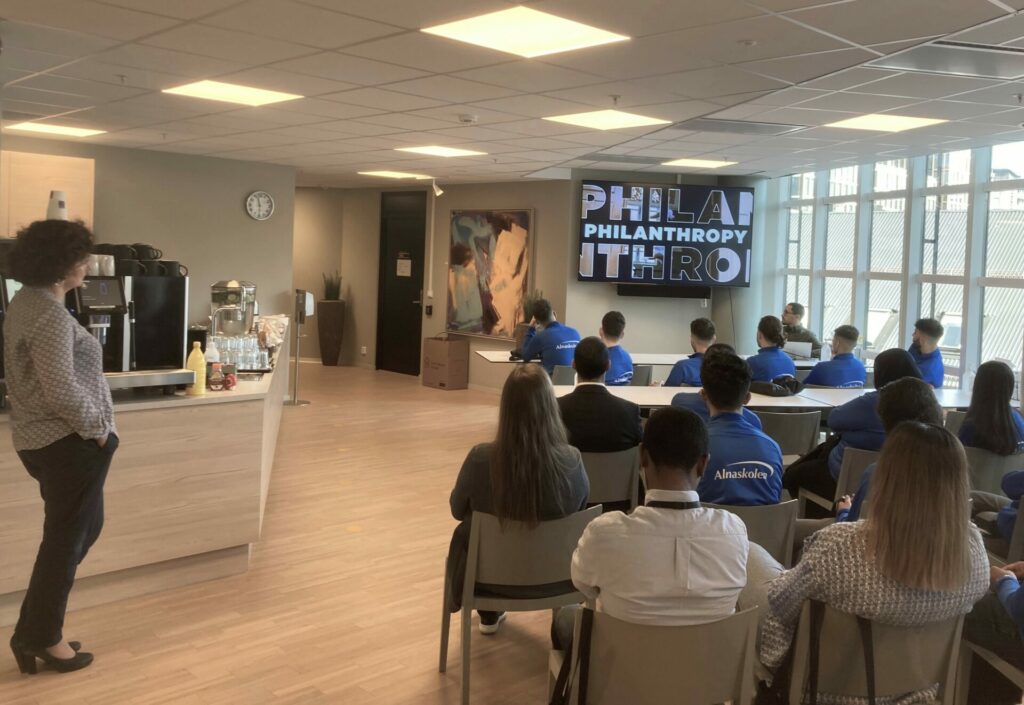 Alnaskolen: a project offering learning opportunities for young people
Alnaskolen was set up in 2009 to help local youth gain leadership experience and connection to their community. In its 14th year, more than
400 children and young people aged 15-25 years (its main age bucket group is however ages 16-18 years), who have or want to have a leadership role in community activities in their local environment or in the field of sport, have graduated from the program. The program is structured to follow the school year. The program has adapted over time: successful graduation is only dependent on participation rate; however, several participants gain paid employment with Furuset IL post the program. The students meet approximately three times a month, with visitation days being days of school for the participants. These are some of the topics in the leadership program:
– Volunteer work / organizational knowledge
– Local democracy
– Reputation building
– Training and activity management (Activity management course under the auspices of the Oslo
sports district)
– Study trips to the Parliament, the University of Oslo, NHO, LO and others.
– Courses in first aid
– Planning of events
– Arrange family gathering
– Arrange the Furuset Festival
– Participation in the planning and implementation of other events
– Photo, film, and website production